Invested in our Community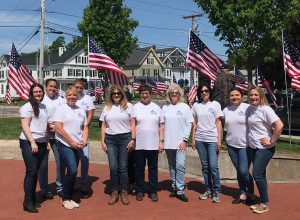 As a community bank, Milford Federal believes that giving back to the neighborhoods and communities in which we do business is of utmost importance. We support not only broad-based and global charities such as United Way and March of Dimes by holding bank-wide fundraising drives – we also support many locally-based programs such as youth and senior centers and food pantries. Each year we award college scholarships to high school seniors from numerous area schools, and Milford Federal is an active member in three area chambers of commerce. In addition, we're on the Honor Roll of institutions participating in the American Bankers Association's Teach Children to Save program, where we speak to local elementary school classes to help kids understand the importance of saving and how it can positively impact their lives. We're proud to say our employees exhibit a strong commitment to charitable giving and community outreach as well, through youth sports coaching, serving as Directors on various boards, choreographing and directing children's plays; Lion's Club, women's clubs and Rotary memberships – Milford Federal employees are out in our communities, getting involved and helping others. We believe in the importance of being a good corporate citizen and are committed to continually seeking out new ways in which to demonstrate that responsibility, throughout the communities we serve. "No act of kindness, no matter how small, is ever wasted." – Aesop
Milford Federal Scholarship Program 
Milford Federal Bank has awarded several scholarships to local high school graduates towards expenses in furthering their education. "Milford Federal Bank is pleased to help each student pursue their dream of higher education," said Paul Gilbody, President and CEO of Milford Federal Bank. "As a community bank, we are committed to supporting the communities we serve. An investment in education is an investment in the future, and these bright students are the future of their communities."
The Milford Federal scholarship program has awarded $10,000 annually, for over 10 years. Each school selected a scholarship recipient based on need, academic standing, and involvement in school and extracurricular activities.
In 2023 high school seniors from Milford and surrounding areas were each awarded a $1,000 scholarship; Blackstone Valley Regional Vocational Technical High School,  Hopedale High School, Milford High School, Nipmuc Regional High School, Northbridge High School, Uxbridge High School, Whitinsville Christian School, Douglas High School and Woonsocket High School.
Rejuvenation of Draper Park 
Milford Federal Bank has donated $5,000 to the community rejuvenation of Draper Memorial Park. Donations made through this initiative will be used to transform Draper Park through repairs to the General Draper statue and brick pathways, as well as the installation of new lighting, landscaping, irrigation, seating, and historical signage.
"Milford Federal Bank is proud to join in the rejuvenation initiative for the improvement of Draper Memorial Park," said Paul Gilbody, CEO Milford Federal Bank. "As part of our responsibility to be good corporate citizens, we are committed to improving the communities where our employees and customers call home."
Draper Memorial Park occupies a triangle of land in the downtown Milford area, located at the intersection of Congress Street and Main Street. The park features monuments that list the names of veterans who served during World War II, the Korean War, and the Vietnam War. Standing tall in the park is the statue of General William Franklin Draper by sculptor Daniel Chester French, whose work also includes the massive marble statue of Abraham Lincoln in the Lincoln Memorial in Washington, D.C. The care and management of Draper Memorial Park falls under the authority of the Milford Parks Commission and Milford Veterans Services.
Donations can be made easily online by visiting Patronicity.com/milford. Individuals or businesses who prefer to write a check can do so by writing it to "Town of Milford" and writing "Draper Park Revitalization" in the memo. Checks should be mailed to the Treasurer's office at Milford Town Hall, 52 Main Street, Milford, Massachusetts 01757.