Corporate Citizenship
Good Corporate Citizenship – a Top Priority and a Value our Employees Share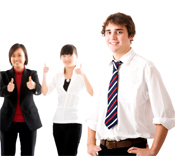 As a community bank, Milford Federal believes that giving back to the neighborhoods and communities in which we do business is of utmost importance. We support not only broad-based and global charities such as United Way and March of Dimes by holding bank-wide fundraising drives – we also support many locally-based programs such as youth and senior centers and food pantries. Each year we award college scholarships to high school seniors from numerous area schools and Milford Federal is an active member in three area chambers of commerce. In addition, we're on the Honor Roll of institutions participating in the American Bankers Association's Teach Children to Save program, where we speak to local elementary school classes to help kids understand the importance of saving and how it can positively impact their lives.
We're proud to say our employees exhibit a strong commitment to charitable giving and community outreach as well, through youth sports coaching, serving as Directors on various boards, choreographing and directing children's plays; Lion's Club, women's clubs and Rotary memberships – Milford Federal employees are out in our communities, getting involved and helping others.
We believe in the importance of being a good corporate citizen and are committed to continually seeking out new ways in which to demonstrate that responsibility, throughout the communities we serve.
"No act of kindness, no matter how small, is ever wasted." – Aesop
---
Milford Federal awards scholarships to local high school students
Milford Federal has awarded $10,000 in scholarships to local high school graduates to assist in furthering their education. Each student was selected by their school's scholarship committee based on need, academic standing, and involvement in school and outside activities.
---
Milford Federal Hosts End of Year Sundae Party for Leo Savoie Elementary School Bankers
Sponsored by Milford Federal Savings and Loan and run by PTO volunteers, the national SchoolSavings.com school banking program has been offered at Leo A. Savoie Elementary for the past nine years. Each Tuesday throughout the school year, bankers head to the technology room where parent volunteers receive and record their weekly deposit, which later in the day is dropped off at Milford Federal's Woonsocket branch and credited to the students' individual accounts.
If you know an area school that may be interested in participating in the SchoolSavings.com banking program, please contact Jennifer Lopes, branch manager at 401.765.2900.