What is Maverick?
Maverick is a sleek, modern digital banking interface for both desktop and mobile banking. Maverick was created to make digital banking simpler, faster and richer to provide a better banking experience to its' users. The streamlined navigation and enhanced features and functionalities gives our banking customers the digital tools they need to manage their finances from wherever they may be.
What's New in Maverick?
New Look with Intuitive Design That's Accessible
A sleek, modern design for an enhanced banking experience by all customers.
One Click Away
For Mobile Banking users, a new navigation bar featuring commonly accessed features.
All users will find additional menus with clever icons to navigate with ease.
Quick Access
Manage all accounts virtually anywhere, anytime.
Dark Mode Supported
Dark Mode feature for easier viewing and prolonged battery life on mobile devices.
A look at Maverick's new online and mobile features and functionalities.

To enhance your user experience, the same look and feel are found on both platforms.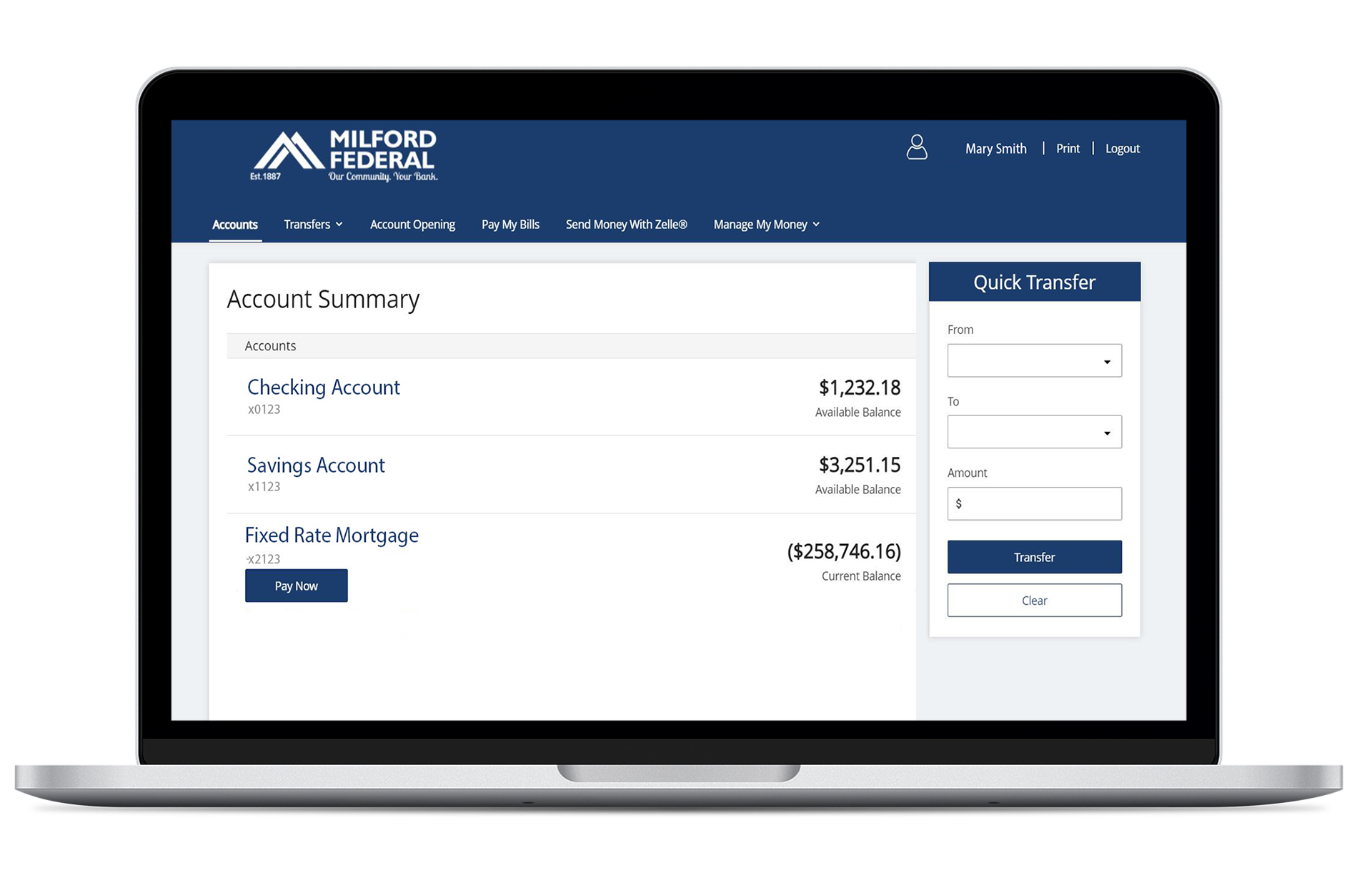 Login Page

Accounts Summary

Profile Menu

New login page for a seamless login experience
Leverage biometric login on mobile
Easily enroll and/or set up new accounts

New design & larger font size for easier reading
Ability to prioritize the order of accounts

Adjust personal and account related settings such as email, phone number or address
Contact Us page for a quick and easy way to get in touch.
Hamburger Menu

Navigation Bar

Transfer Pages

All features just one-click away

Top 5 key tasks within reach from the new bottom menu

Easily manage transfers
Quickly add new accounts
We are excited to bring you this new digital banking experience.  Have questions? Feel free to contact us.
Important Note: With the upgrade to our new Online Banking experience, customers who use financial management software, websites, or applications that connect directly to their online banking using their credentials will see an interruption in connectivity for up to 48 hours. If the problem persists, please reach out to 508-634-2500.
* Screenshots are for demonstration purposes only and subject to change.