As a busy bank customer, you know how important it is to conduct your financial business on the go. But did you know that technology has made managing money while out and about even easier? Whether you're heading home from work or off on an adventure abroad, banking apps can provide quick and secure access to the services you rely on – no visit required! In this blog post, we'll look at why 'banking on the go' is such a convenient option for customers like yourself.
Introducing the Benefits of Mobile Banking
 With mobile banking convenience and affordability, it makes taking care of all your finances fast and easy. With an app on your phone, you can securely log into your bank account to pay bills, receive transfers, and keep up with your accounts in real time. One great benefit is that you get notifications every time there is activity, so no more worrying about late fees! Furthermore, with remote deposit capture technology included in some apps, you can even deposit checks simply by snapping a picture. Who would have thought banking from home could be this simple? Mobile banking has the bonus of helping to reduce environmental impact since it eliminates the need for postage stamps, envelopes, and paper checks; something we can all feel good about. Try mobile banking today and see what you've been missing!
The Advantages of Being Able to Bank on the Go
With mobile banking, you can access your financials wherever and whenever you please. It's revolutionized traditional banking, offering users the convenience of managing their money from the palm of their hand. Whether you need to pay bills, transfer money or check your account balance; mobile banking makes it all a breeze. Plus, on top of all that, it brings added security with special features such as fingerprint recognition and facial identification. For anyone who is always on the go and constantly busy, mobile banking offers immense value with both time and safety.
Secure Technology Used by Mobile Banking Apps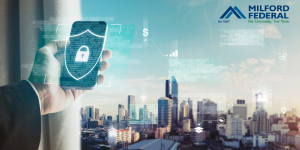 Mobile banking apps are becoming increasing popular, and many people depend on them for financial transactions. Companies recognize the importance of keeping user data secure, so they have implemented various security measures to prevent hackers from accessing personal information through the app. Secure technology such as two-factor authentication, encryption of data, and biometrics is widely used by mobile banking apps to protect users' sensitive data. With these technologies in place, users can feel confident that their identity and money will stay safe while using a mobile banking app.
Tips for Setting Up Your Mobile Banking App 
Mobile banking can be a great way to take charge of your financial life; all you need is the right app and a little know-how. When setting up your mobile banking app, start by making sure that you have all the information required to access your account. This usually includes security measures such as passwords and PINs, as well as verification codes sent to your phone number or e-mail. You also want to ensure that your device has the latest security update downloaded and installed. Lastly, double check that the email address and phone number associated with your online banking are accurate, as this information may need to be used for authentication or password recovery in the future. Once these steps are complete, logging into your mobile banking should be smooth sailing!
Money Management Tools Available Through Mobile Banking Apps 
These days, mobile banking apps make it super easy to keep track of our finances. With the range of money management tools available through banking apps, it's never been easier to meet our financial goals. From budgeting and setting reminders for bill payments to tracking investments and monitoring spending habits, mobile banking apps offer a range of features that can help anyone become an expert with their personal finances. With these tools at your fingertips, you can be confident that you are achieving your financial goals while saving time and energy along the way.
All in all, mobile banking is a great way to effortlessly manage your finances. It's an easy, secure way to take control of your money without the hassle of heading to a physical bank branch or ATM. Plus, tools such as budgeting options and spending trackers help you stay on top of your finance goals and ensure that you don't overspend. Mobile banking can offer many advantages and conveniences!  If you're looking for a more efficient way to do your banking, give mobile banking a try – it could offer just the convenience that you're looking for.